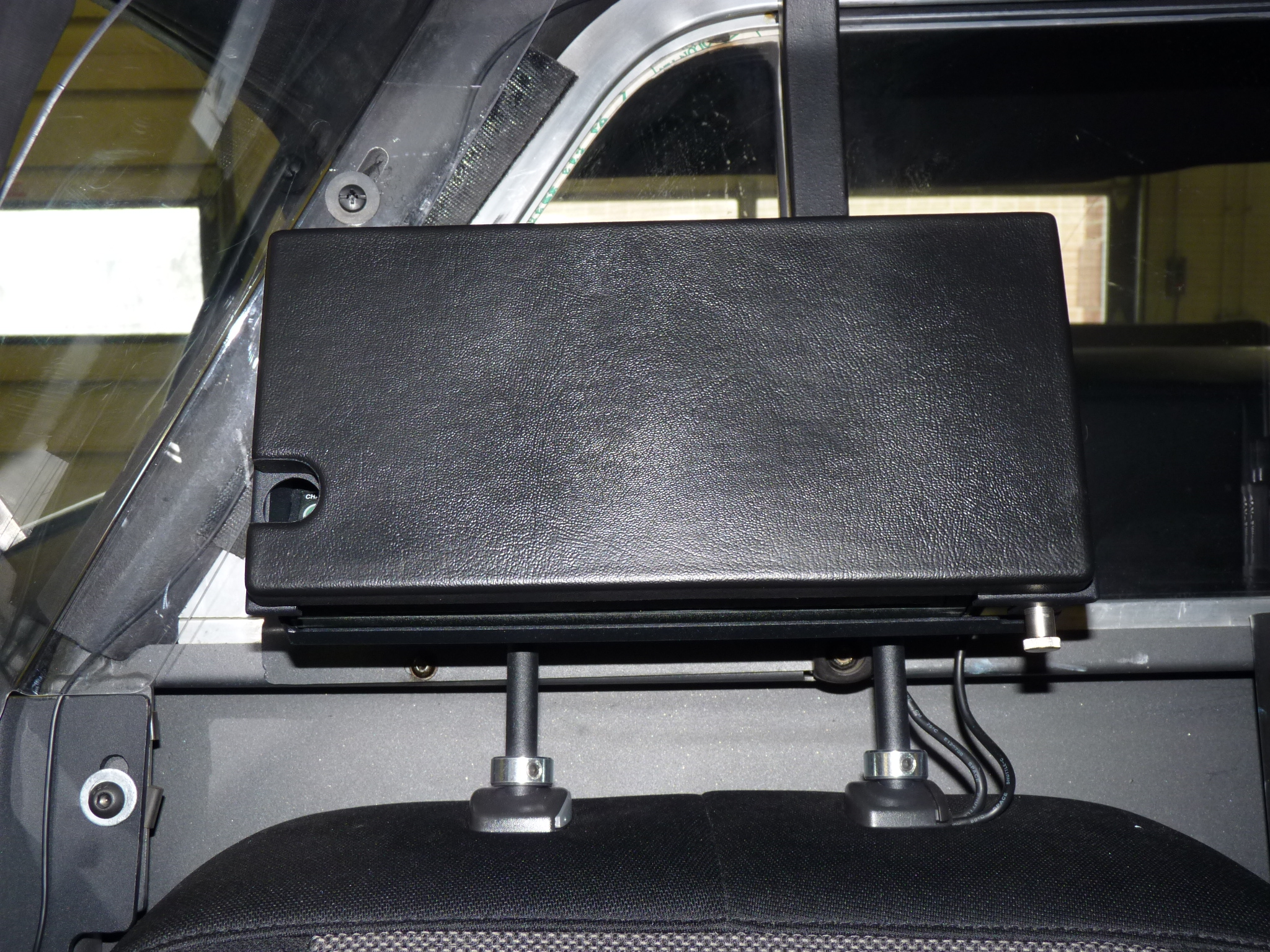 Our new Brother PJ printer armrest installed using our UVHR mounting option. Check out the power button access through the closed padded lid!


Welcome...to next-gen mounting solutions!!!!!
CAB Solutions LLC is the manufacturer of the UVHR (vehicle head rest) mounting solution for your mobile data applications. Although CAB Solutions LLC specializes in solutions largely for Public Safety and general government use, the applications are endless.
Our new product evolution, the CAB Solutions PocketJet printer armrest, was designed specifically with public safety in mind. Our printer armrest, combined with the Universal VHR mount(UVHR), is currently offered to fit almost all patrol vehicles equipped with a removable adjustable head rest. If that total mounting solution does not suit your needs, then we have designed a unique pedestal mount that can join with nearly any console base as well. If your agency is looking for a durable and effective printer mounting solution then look no further. These products were designed for public safety by someone in public safety!
CAB Solutions products are distributed by our trusted partner, Baycom Inc of Green Bay. Please visit their site for more of our product information.

The unauthorized reproduction of any CAB Solutions product may constitute theft which may be punishable by civil and criminal penalties determined by the court of jurisdiction. Ref WI Stats: 943.205, 943.205(3)
Medicine Generic Viagra Online (Sildenafil) is a biologically active additive for men, which contains exclusively natural plant substances. The drug Levitra Online (Vardenafil) contributes to the normalization of the body's activity, stimulates many physiological processes, helps improve the overall condition and positively affects the functioning of the reproductive system. See more: